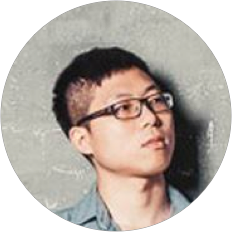 A new musical instrument may not change the meaning of improvisation, but it will surely change how a talented musician improvises. Similarly, new toys and tools for modeling, prototyping, and simulation may not change the meaning of innovation, but they will surely change how organizations innovate. – Michael Schrage
Chuan-Che (Jeff) Huang is a Ph.D. candidate at the University of Michigan (U-M), researching HCI, context-aware computing and smart homes under Mark W. Newman's mentorship. He is passionate about creating technologies that encourage sustainable living, support expression, and facilitate reflection. He has worked on smart home systems that can predict people's comfort level, intelligent thermostats that help people save energy, and public displays that encourage informal communication.
He is an interaction designer and a maker receiving training from U-M's information, computer science, design and architecture schools. His design work encompasses an architectural scale interactive installation, a table lamp that represents mother's pregnancy experience, and smart shoelaces for street-level interaction. He also worked on Internet of Things related products while interning at Samsung Research America. He has published at UbiComp, TEI, and his art-design work has been exhibited at NCRC and Duderstadt Center Gallery. In 2015 he founded DoIIIT Studio, a design studio within U-M that focuses on designing interactive, intelligent and interconnected things.
He has received Chia-Lun Lo Fellowship, School of Information Merit Scholarship and membership of Phi-Tau-Phi Scholastic Honor Society. Before he studied at U-M, he received a BS in computer science from National Tsing Hua University, where he graduated with first rank among his class.